Towards the End of the Month Menu (Part Two) Spam Sushi. See great recipes for Towards the End of the Month Menu (Part Three) Maak Kook Soo too! Towards the End of the Month Menu (Part Two) Spam Sushi. I always have roasted nori sheets and few cans of Spam in my pantry.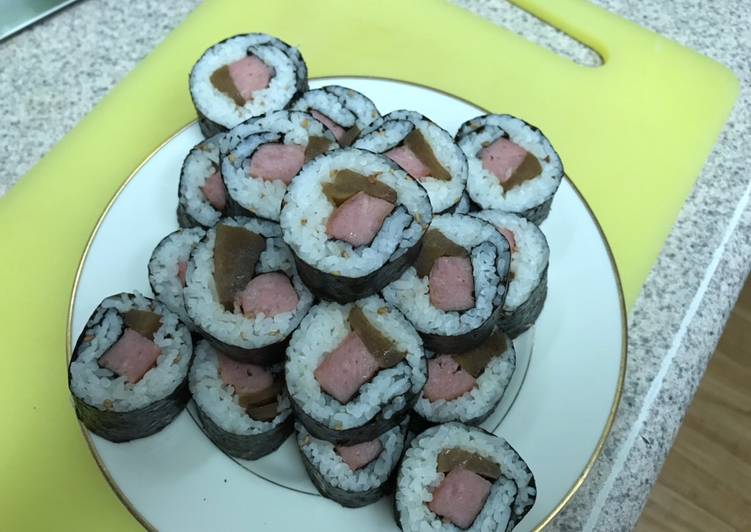 Spam Musubi – The spam is grilled until crispy, perfectly caramelized with soy sauce and sugar, and wrapped with sushi rice. I ended up liking the result so much more than the original version. The refreshing acidic note cuts the greasiness of the Spam, mellows its saltiness, and works perfectly with. You can cook Towards the End of the Month Menu (Part Two) Spam Sushi using 7 ingredients and 9 steps. Here is how you cook that.
Ingredients of Towards the End of the Month Menu (Part Two) Spam Sushi
Prepare 2 1/2 cups of cooked rice.
It's of Salt.
Prepare 1/2 TBS of Sesame oil.
Prepare of Sesame seeds (optional).
You need 4 sheets of roasted nori (Japanese brand).
You need 1/2 can of Spam.
It's 1/2 of of a chayote, pickled.
Spam Musubi is a popular street food item in Hawaii that is strongly influenced by Japanese Sushi. This is an easy recipe, hope you enjoy! ➔Get tickets to. See more ideas about Recipes, Sushi recipes, Spam sushi. Spam fried in soy sauce and sugar, then pressed between two layers of rice, held together by a sheet of.
Towards the End of the Month Menu (Part Two) Spam Sushi instructions
Put rice in a bowl. Sprinkle some salt, sesame oil, sesame seeds on the rice. Mix well. Divide into 4 parts..
Cut Spam into 3 slices. Cook Spam on frying pan on medium heat. It's a whole can of Spam you see in the picture..
Put cooked Spam on paper towel for extra fat to be absorbed. Cut one slice of Spam into 3 strips. Cut pickled chayote into 8 strips..
Lay a sushi mat on a cutting board. Put nori sheet, shiny side down, on sushi mat. Spread 1/4 of rice on nori sheet. Check picture for reference..
Put 2 strips of Spam and 2 strips of pickled chayote in the middle..
Fold the nori (south part) onto rice (picture #1). Pull the nori sheet towards the end of sushi mat (picture #2)..
Fold the nori to cover Spam and chayote, and start rolling. Stop when you almost get to the end. Follow the cylinder form of the roll, gently put some pressure with fingers to pack the rice "tight". Damp fingers with water, dab along side of the end of nori sheet, finish rolling the nori sheet..
Wrap both hands around the mat. Gently squeeze to firm up the sushi roll. Picture shows only one hand because I am trying to take the picture with the other one. 😊.
Cut off both ends of the sushi roll. Then cut roll into half, then into 1/3. Arrange on plate..
A festive version of Spam Musubi, using small cookie cutters to cut shapes out of the spam slices before cooking. If you submit spam IT will go in the spam flter. Yes, and my county has two of the countries three most diverse school districts. So we have crazy good food and cultural representation. I had a loco moco but with spam a couple months ago and that shit was bomb.