Vegan sushi roll / GF. Raw vegan sushi rolls featuring colorful veggies, miso, hemp hearts are so easy to make and perfect for a light lunch or dinner! Raw Vegan Sushi Rolls are made with fresh vegetables rolled in a nori sheet with miso and hemp hearts. They are light, healthy and easy to make!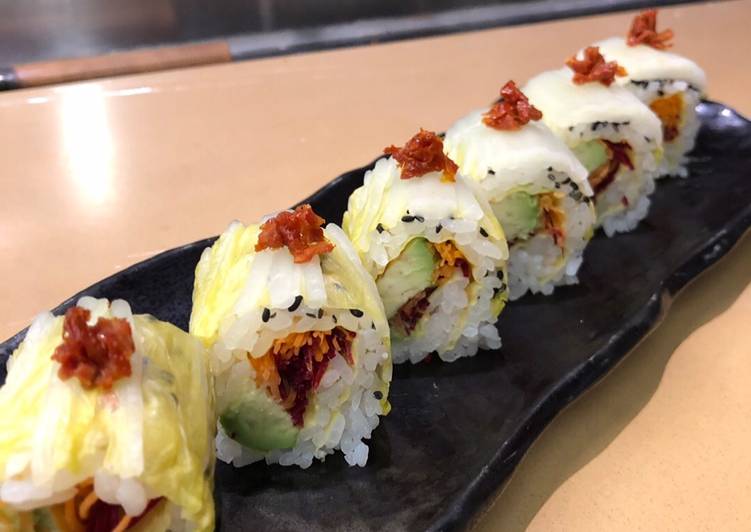 That means if you click on my link and buy something, I will Unfortunately , a traditional California roll has crab, or mock crab. And neither of those are vegan. But if you go to a vegan sushi restaurant, they. You can have Vegan sushi roll / GF using 7 ingredients and 4 steps. Here is how you cook that.
Ingredients of Vegan sushi roll / GF
It's 1 leaf of pickled suichoy.
It's 1 of peace sun dried tomato.
You need 20 g of Carrot.
It's 20 g of beets.
It's 110 g of Sushi rice.
Prepare 1 of soy sheet.
You need of Some black sesame.
Making these vegan sushi rolls is pretty easy if you follow the instructions. Sprinkle the vegan sushi rolls with sesame seeds and serve with soy sauce. If you want you could also add wasabi and pickled ginger. Have you ever wished you could make your own sushi at home?
Vegan sushi roll / GF instructions
Spread 110g of Sushi rice on soy sheet. Try to place rice softy and gently. Put the sheet up side down to "Maki-su" which is rolling up for making sushi roll..
Place 20g carrot, beets and few slice of avocado on sheet. Then roll it up like a California roll with softy..
Put some black sesame on top, then place pickled suichoy on it. Cover with plastic wrap and hold up again with "Maki-su"..
Cut the roll for 6 pieces. Chop a sun dried tomato and put on the each piece of the roll..
Vegan sushi roll recipe – amazing vegan food recipe The vegan sushi roll is an amazing vegetarian sushi roll recipe; this recipe brings out the best possible. Avocado & Mango Brown Rice Sushi. W hen making the transition from carnivore to vegan, one of the hardest hurdles to clear is sushi. Homemade Vegan Sushi Rolls are a healthy and economical way to enjoy sushi using vegetables instead of seafood. Same great taste at a fraction of the cost.